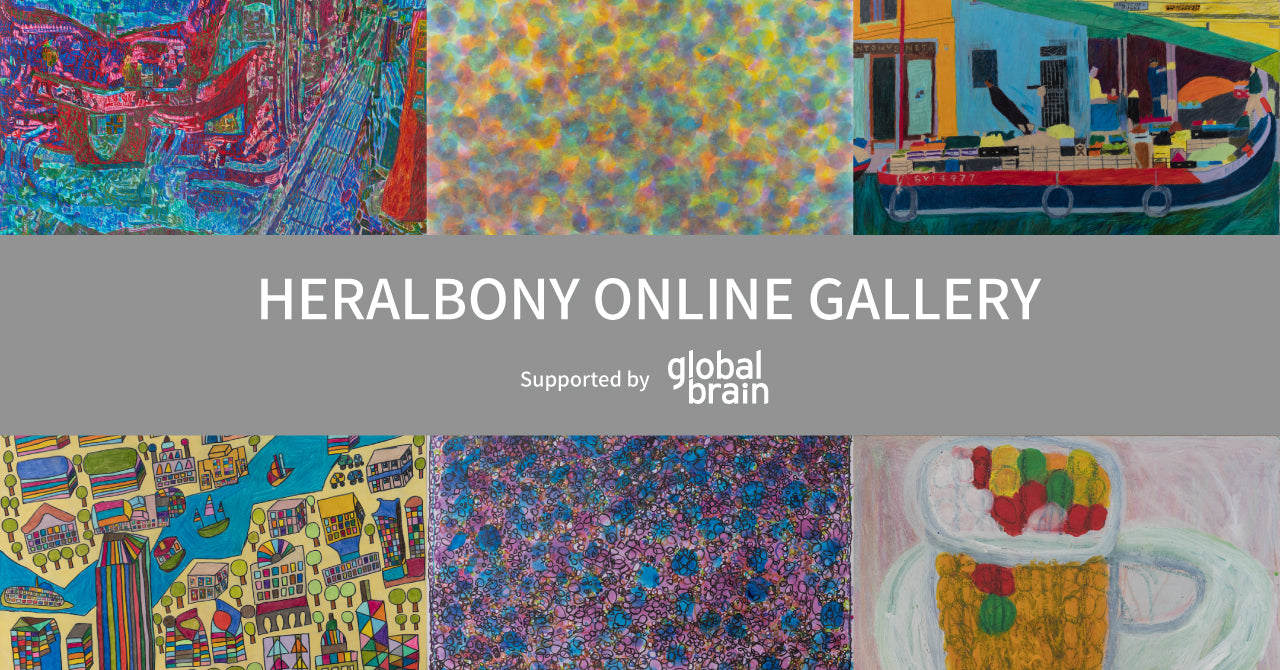 November 01, 2021
ONLINE GALLERY
[ONLINE GALLERY] Online Gallery's 3rd season, "Atelier Yoohoo!!" exhibition started.
HERALBONY ONLINE GALLERY will hold an exhibition "Atelier Yahhoo!!" from November 1st. You can enjoy 20 works drawn by all 7 artists online. In addition, "HERALBONY ONLINE GALLERY" was realized with the cooperation of Global Brain Co., Ltd., which resonated with the mission of HERALBONY.
■Overview
Theme: "Atelier Yahhoo!!" Exhibition
Date: November 1, 2021 (Monday) - January 31, 2022 (Monday)
Venue: HERALBONY ONLINE GALLERY
■ Participating artists
Allhiko Kimura
Swipe with strong pen pressure. He devised a unique wedge-shaped pattern called Kyuni Kyuni. As a result, the painting has a sense of depth and three-dimensionality. The subjects of his paintings vary from animals to still lifes, but each of his works stands out with his unique painting style. Although his works are highly regarded both at home and abroad, he is indifferent to the noise of the outside world.
Yukihiro Kokuho
Mr. Kunibasu draws powerfully while sometimes humming a song with a unique and mysterious melody. Not only the pictures he draws, but also the mysterious, slightly melancholic melodies are captivating. Boldly using oil pastels and acrylic paints, he repeatedly draws and overpaints, so the paintings with many layers have a heavy weight.
Yuriko Kodera
Since 2008 when the atelier started, he has been active as an illustrator of pottery and miscellaneous goods production. Beginning with animal illustrations, he now draws mainly on buildings in Japan and around the world. It features several patterned vivid color schemes. A powerful and fun work is born with a combination of bold motifs. Recently, he is also challenging pasting pictures and paints.
Hitoshi Shimazu
Draw people, animals, vehicles, etc. in warm colors using oil pastels. After looking at the photo and making a rough sketch, the oil pastel is painted over and over again, and occasionally scraped with a palette knife and redrawn. When I draw the backgrounds, I sometimes don't refer to photos, and sometimes my favorite shops and vehicles appear freely.
Higo Miyuki
At Atelier Yahhoo!!, she is like an older sister to everyone, and creates works freely using colored pencils, watercolors, embroidery threads, etc. according to her mood. The creatures and plants that appear in the work range from cute to mysterious things that even the author himself does not understand. A colorful world that oozes kindness is spreading in every work.
Yasutaka Minami
I started creative activities about 10 years ago, and the motif that I have drawn the most is "face". Fill the paper with the faces of yourself and people close to you. Whether it's round or any other shape, just fill up the paper. slowly over several months. For Mr. Minami, the act of "filling in the screen" may be more valuable than "drawing something".
Hiroshi Yoshida
Originally active mainly in pottery, started drawing in earnest in 2014. At first, he mainly drew animals with oil pastels, but as he began to draw a wide range of themes such as landscapes, cities, and people, he changed to colored pencils. It is characterized by looking closely at the photo and drawing, but the color is more vivid and pop than the actual color. In particular, the characters are all cheerful and humorous, and make the viewer feel happy.
Please enjoy the numerous works of art that give off a different color.