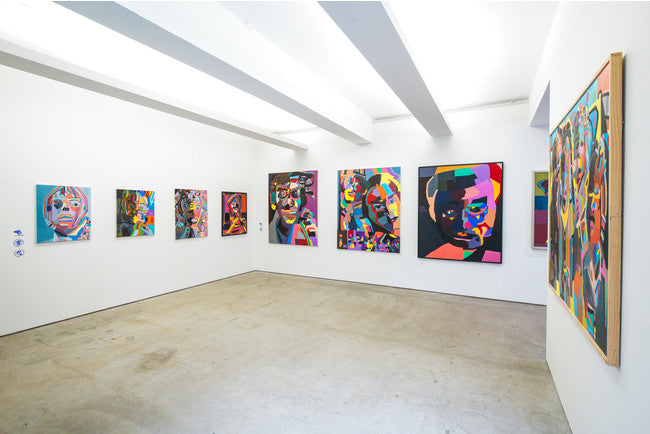 [GALLERY] Started"HERAL BONY GALLERY", which conveys the talents of artists with disabilities, and the 2nd original painting exhibition"Keisuke Mori Exhibition"
Compared to overseas art markets, the market value of art brut works by artists with disabilities is still low in Japan. Heralbony is based on the desire to dispel the deep-rooted negative image that exists in society that "the value of things created by people with disabilities is low", and to create a space where respect is born for individual artists through the filter of "art". "HERALBONY GALLERY" opened on April 25th. 40% to 50% of the selling price of the original artworks sold at this gallery is returned to the artist. The first "Kimura Allen Exhibition" recorded over 300 visitors during the exhibition period, and 4 of the 11 original works were sold. Heralbony aims to increase the market value of works created by people with disabilities, and to realize a society in which talented artists are properly evaluated, regardless of whether they have disabilities or not.

■ Outline "Keisuke Mori Exhibition"
Author: Keisuke Mori
Date: June 19-August 1, 2021 Time: 12:00-19:00
Closed: Wednesdays and Thursdays Venue: 2-38 @ HOMEDLUX Building 4F, Kaiunbashi-dori, Morioka City, Iwate Prefecture Admission: Free Sponsor: Heralbony Co., Ltd. Cooperation: Garden of Hope (Matsusaka City, Mie Prefecture)
Highlights of the Keisuke Mori exhibition
In his second exhibition of original paintings, "Keisuke Mori Exhibition," four oil paintings on a large canvas with a total length of over 1.5 meters will be exhibited. We will show the record jacket, which is a personal item of the artist himself, which became the motif of the work. On the monitor in the venue, you can also watch the artist's production. Characterized by the carefully crafted colors unique to oil paintings and the creation of screens with sharp differences in brightness, his impressive group of works that painstakingly depict a person on a record jacket stimulates a part that people have forgotten before they know it. and touches the depths of your heart. A strong and dynamic view of the world that can only be drawn in the forest colors the gallery.
■ Artists/Introduction
Author: Keisuke Mori
Affiliation: Garden of Hope (Matsusaka City, Mie Prefecture)
Born in 1989. Lives in Ise City, Mie Prefecture. Belongs to "Kibo no Sono" in Matsuzaka City in the same prefecture. At the age of 12, he started producing at the atelier "HUMAN・ELEMENT". Started oil painting at the age of 17, and is a regular artist who wins prizes at public exhibitions nationwide and Mie Prefecture exhibitions every year. He has held solo exhibitions in Aichi, Gifu, and Mie. He has participated in many group exhibitions not only in Japan but also overseas such as Germany, France, Spain, China, and Vietnam. The current bright and dark color composition was established based on the advice of Mr. Murabayashi, chairman of Kibou no Sono. My hobbies are playing video games and reading books.
Awards
2015 Submitted to Art Karlsruhe 2015 (Germany)
Submitted to Paris Art Fair 2015 (France)
2020 "The 3rd Nippon Foundation DIVERSITY IN THE ARTS 2020" Award
"1st Art Para Fukagawa Public Exhibition" Excellence Award