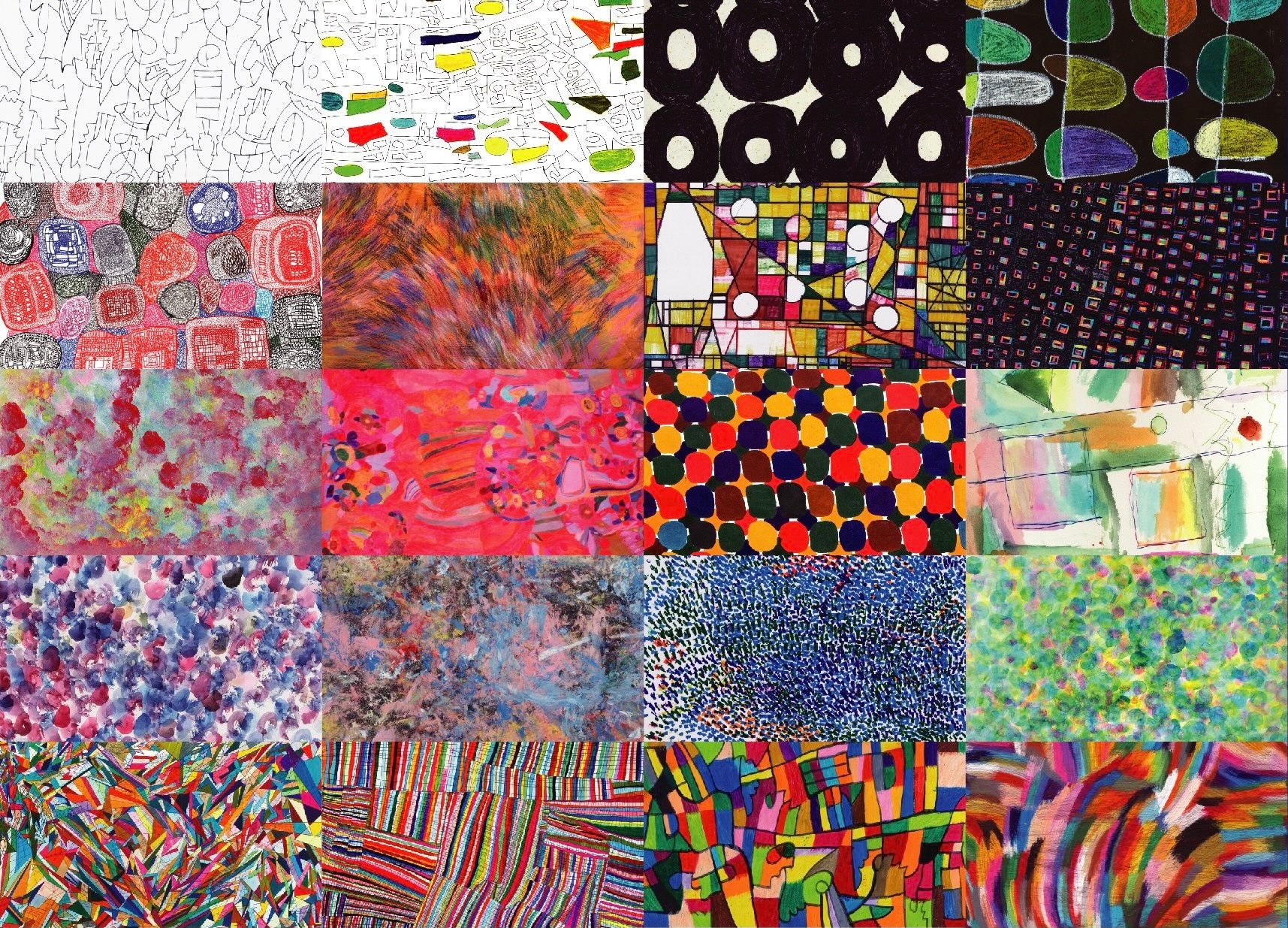 [NEWS] HERALBONY ART COLLECTION 2021
Heral Bonnie celebrated its 3rd anniversary on July 24th.
Over the past three years, we have contracted 37 welfare facilities and approximately 2,000 pieces of art data, and have expanded the works drawn by artists with disabilities to various things, events, and places. Among them, the art life brand "HERALBONY", which is one of the appointments, has so far incorporated about 40 works into products and sold them.
From September 1st, 20 works by 15 artists with disabilities will appear as new standard patterns for HERALBONY.
Please enjoy the unique and unique works of each of the 15 artists.
Introduction of new artists and works
Fumie ShimaokaFumie
Shimaoka
"universe"
Affiliation: Individual (Osaka Prefecture)
Ever since I was little, I have enjoyed working at my desk and moving my fingers, so I enjoyed going to Montessori classes. He was expected to be good at origami, so he got a job folding linen such as napkins at a hotel, and spent his spare time doing calligraphy, lillian, and knitting. One day, he suddenly developed acute edema, and although he was worried that he might lose his eyesight, he miraculously recovered. I started.
Her work is characterized by her unique sense of color, which connects small circles and cells to draw her favorite things and thoughts. At first, he painted monochrome works, but he gradually took on many colors, changed shapes, and multiplied the fragments, gradually establishing his current style.
The motto she wrote on the colored paper when she graduated from high school is, "Life is interesting because unexpected things happen."
Currently, while commuting to the workshop, he spends his days leisurely enjoying creative activities at the table after having dinner with his family.
"Helmet"
Affiliation: unico (Fukushima Prefecture)
Skillfully pick out the information you want, such as photos and words, from the magazines and newspaper inserts around you, and express your intentions. He is also rich in emotional expressions, expressed through facial expressions, gestures, tone of voice that cannot be expressed in words, and painting is one of them. It was a fun event, something I wasn't satisfied with. Daily weather and seasonal change. The movement of Anzai's mind becomes the color, and bold brushwork and strokes are layered delicately.
This work, titled "Kabuto," was inspired by a helmet decoration I found in an advertisement during the May festival. Anzai often draws bold line strokes using multicolored crayons over the entire canvas, but in this work he uses small "danpo" instead of crayons. Blue, yellow, red, light blue, pink, yellowish green. Colors are unevenly mixed, and it is a work of attraction that makes you feel as if something elusive, like the source of life, is welling up from the bottom of the canvas.
"Square and circle and triangle"
"circle"
Affiliation: Atelier Yahhoo!! (Kyoto Prefecture)
At Atelier Yahhoo!!, she is like an older sister to everyone, and creates works freely using colored pencils, watercolors, embroidery threads, etc. according to her mood. The creatures and plants that appear in the work range from cute to mysterious things that even the author himself does not understand. A colorful world that oozes kindness is spreading in every work.
"apple bouquet"
Affiliation: JOY Club Art Division Atelier Bravo (Fukuoka)
Born in Fukuoka City in 1988. A character drawing in the corner of his diary caught the attention of a teacher at a school for the disabled, and the illustration was adopted for the calendar of the Special Olympics Japan Fukuoka. An artist with a unique way of capturing shapes that draws colored pencils, light-colored watercolors, and acrylic paintings with vivid and thick lines. In 2015 (company fortune), he created a mural in the bathroom of Yasuragi-so in Yasu Kogen Welfare Village.
"square"
Affiliation: Wakatake Art (Okinawa)
His obsession with letters has continued since childhood. When the work he secretly produced in his room was introduced at the 2001 exhibition, it immediately attracted attention from outside the prefecture and even abroad. There are only two or three pieces that were buried until the end, and most of them stopped halfway. After that, I began to draw letters not only at home but also during Wakatake's creative activities, and for some reason these works are drawn vertically. For the past 12 years or so, he has devoted himself to drawing colorful bells and stars instead of kanji, and for the past eight years he has been enthusiastic about drawing small dots. It is like dyeing, and it is a production scene that seems to enjoy the process of painting persistently until it oozes out on the back side. His commitment and unique method are seen there and I am impressed. His works have been introduced repeatedly both in Japan and overseas, and have been published in the Complete Works of Japanese Art (Shogakukan, 2016).
Sachiko MiyazawaSachiko
Miyazawa
"Sakura Carpet"
Affiliation: Nozomi House (Tokyo)
Put a lot of "finger paint" on both hands and draw as if holding the canvas. Miyazawa likes sudden sounds and lively atmospheres. Mixed emotions are expressed in many colors in a dynamic yet gentle touch.
Exquisite color mixture is born by painting over and over again over time.
"Festival"
Affiliation: Boston Special Needs (Boston)
Born in Boston, USA in 1999. His real name is Satoru Motoyama. A low birth weight infant with mild hearing loss is born small and grows slowly. Later diagnosed with autism spectrum disorder with intellectual disability. At the age of 10, he encountered watercolor painting at a summer camp. Since then, he has painted one picture every day, and his style continues to change gradually. As a member of the local family support group Boston Special Needs (BSN), he has exhibited at numerous art fairs.
"Hoo! Hey!"

Affiliation: Garden of Hope (Mie Prefecture)
Born in 1994. autism.
Create a surface by painting with crayons, collect the crayon scraps that have been scraped with a needle to erase the color, and create works while playing with it like clay.
Recently, there is a wide range of production methods, such as adding poster colors to crayons and scraping the colored surface with a needle on a board or canvas. To tell the truth, the mass of the shavings (which he calls Koroichi) is his true work, and the resulting painting is just the shavings left behind, and he has no interest in it.