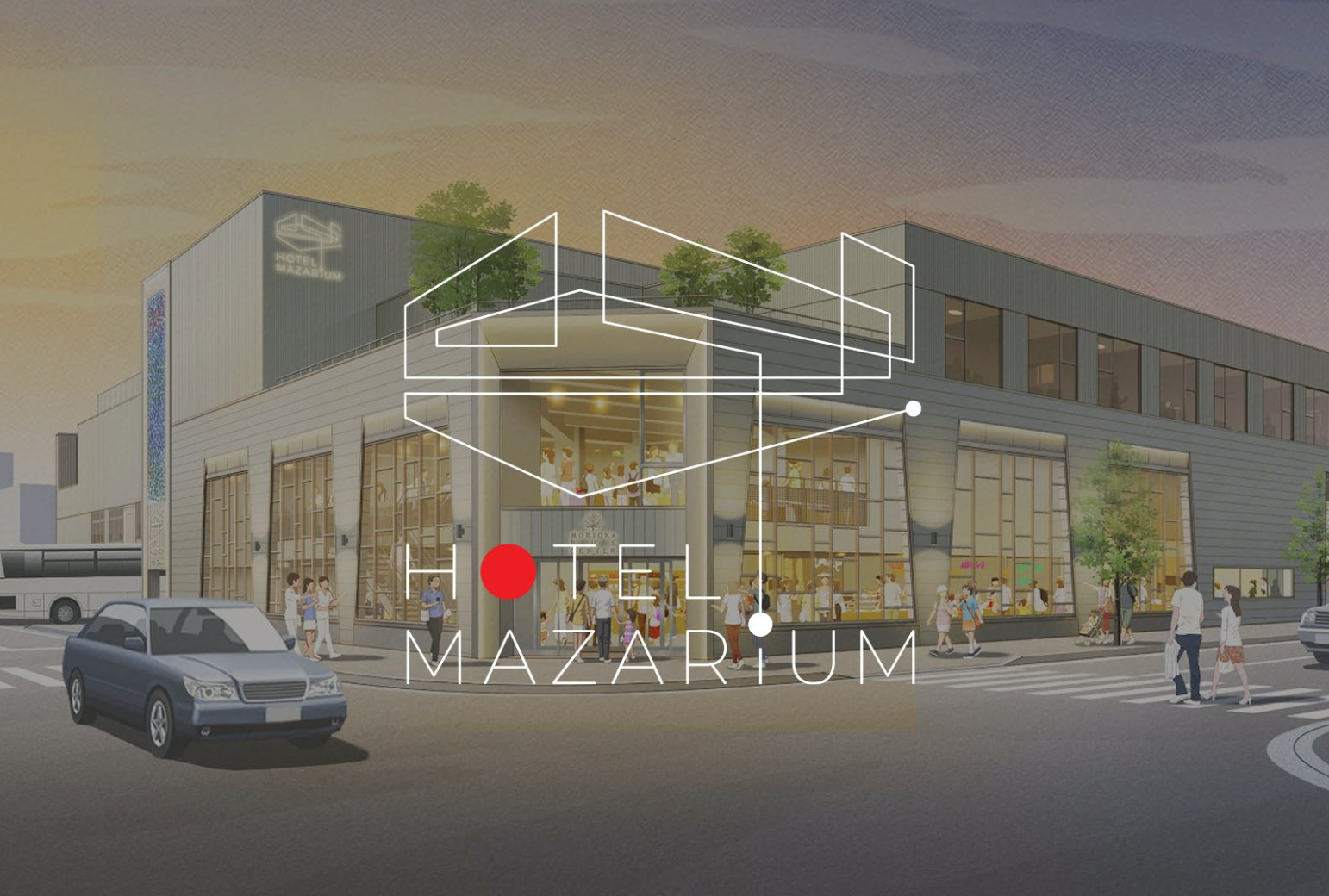 [HOTEL MAZARIUM] Let's color the beginning of a new lifestyle together. Crowdfunding started from 8/29!
This time, the lifestyle hotel "Mazarium", which is produced by the welfare experimental unit "Heraruboni", will be born in Morioka City, Iwate Prefecture. We will carry out crowdfunding in order to support the production of art products that will continue to be loved by the region and people and will add attractive color to the hotel space.
In this Curafan, "Morioka Local Hub", which owns and operates Mazarium Hotel, is the main body, aiming to create a space where you can experience the distinctiveness of Heralboni, which is the hotel's greatest feature, and to foster a sense of expectation for local people. It will be a great project. In addition, 8 of the 34 guest rooms will be decorated by 8 artists from the Rumbinii Museum, who live in Iwate Prefecture, and a portion of the accommodation fee will be returned to local artists and welfare facilities. It's how it works.

Through this project, we aim to create a new stay experience and revitalize Morioka by combining various people, various values, and various lifestyles with the charm of this area.


▶︎ Click here for details on crowdfunding
■ HOTEL MAZARIUM × HERALBONY CONCEPT
■ About the use of funds
Your support money will be used for the production costs of the art products produced by Heral Bonnie and placed in Hotel Mazarium. (*Part of the fee will be a CAMPFIRE fee.)
<Art Product Production Cost>
・Large art tapestry in front of the front desk ・Art rug in the sofa corner in front of the front desk ・Noren in the large public bath ・Art panels and curtains in guest rooms
■ About returns
We will send you a thank you letter for all courses. In addition, we will print the names of everyone who supported us on a plate and install it in the hotel. (*You can choose not to print if you wish.)

[30,000 yen] High-class twin accommodation coupon, limited hand towel course
① Mazarium Heralboni Art Room High Class Twin 1 night (with breakfast) for up to 2 people ② Mazarium x Heralboni Limited Tenugui 1 piece ③ We will send a thank you letter to everyone who has supported us.
④ We will print the names of everyone who supported us on a plate and install it in the hotel. (Installation period of 1 year or more)

[25,000 yen] Twin accommodation ticket, limited tenugui course
(1) Mazarium Heralboni Art Room Twin 1 night (with breakfast) for up to 2 people (2) Mazarium x Heralboni limited hand towel (1 piece) (3) We will send a thank you letter to everyone who has supported us.
④ We will print the names of everyone who supported us on a plate and install it in the hotel. (Installation period of 1 year or more)

[21,000 yen] Double accommodation ticket, limited tenugui course
① Mazarium Heralboni Art Room Double 1 night (with breakfast) for up to 2 people ② Mazarium x Heralboni limited hand towel 1 piece ③ We will send a thank you letter to everyone who has supported us.
④ We will print the names of everyone who supported us on a plate and install it in the hotel. (Installation period of 1 year or longer)

[12,300 yen] Limited tenugui and limited T-shirt course
① Mazarium x Heralboni limited hand towel 1 piece ② Mazarium x Heralbonny limited T-shirt 1 piece
③We will send a letter of thanks to everyone who supported us.
④ We will print the names of everyone who supported us on a plate and install it in the hotel. (Installation period of 1 year or longer)

[10,500 yen] Limited T-shirt and spa bathing ticket course
① Mazarium x Heralboni limited T-shirt 1 piece ② Mazarium Canaan Spa bathing ticket 1 piece (This is a ticket that allows you to use the Canaan Spa attached to Hotel Mazarium once per person.)
③We will send a letter of thanks to everyone who supported us.
④ We will print the names of everyone who supported us on a plate and install it in the hotel. (Installation period of 1 year or more)

[5,500 yen] Limited hand towel/spa bathing ticket course
① Mazarium × Heral Bonnie limited hand towel 1 piece ② Mazarium Canaan Spa bathing ticket 1 piece
(This is a ticket that can be used once per person at the Canaan Spa attached to Hotel Mazarium.)
③We will send a letter of thanks to everyone who supported us.
④ We will print the names of everyone who supported us on a plate and install it in the hotel. (Installation period of 1 year or more)
Hotel Mazarium x Heralbony Original Design Tenugui
Hotel Mazarium x Heralbony Original Design T-shirt
Cooperating companies | Morioka Local Hub Co., Ltd. official website | https://morioka-buscenter.jp/
Cooperating companies | Ogal Shiwa Co., Ltd. official website | https://ogal.info/