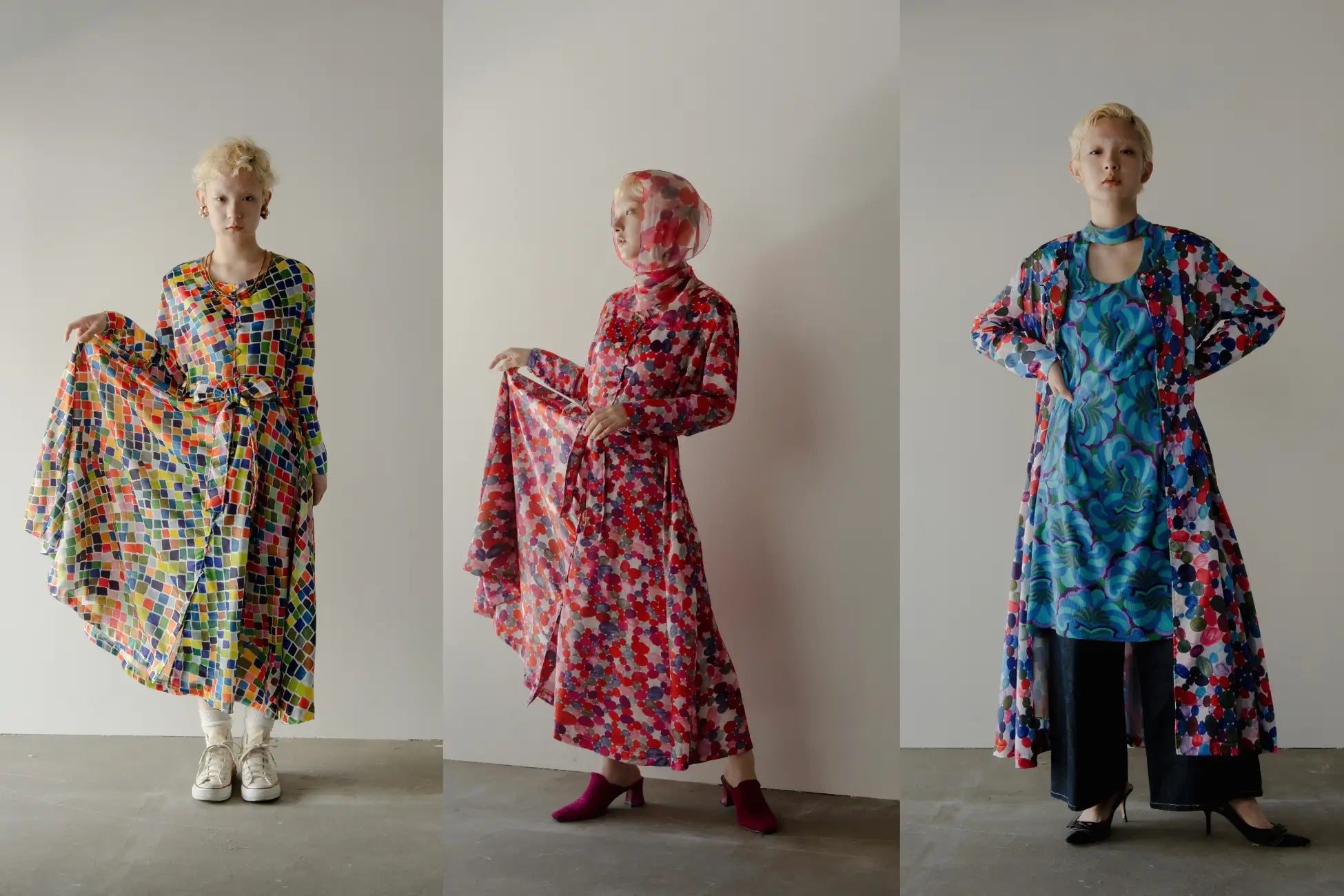 [NEWS] Released collaboration items with vintage boutique "HAND"
HERALBONY will be selling limited art dresses and art scarves in collaboration with the vintage boutique "HAND" from September 17th.
"HERALBONY" has been challenging to change the image rooted in the word "disability" by collaborating with various brands and companies and utilizing the "outstanding" art drawn by artists with disabilities.

This collaboration is a project that started in 2017 with Mr. ERU, the director of "HAND" who has been resonating with the business since the beginning of Heral Bonnie.
For the brightly colored art dress and twilly scarf, which has a somewhat retro feel, the works of Heralboni contract artist fuco:, who continues to draw squares, circles, and triangles with a pen, were used.
In 1967, French painter Jean Dubuffet coined the term "art brut" (raw art) for the work of people who have never been artistically educated. Products inspired by the fashion scene of that time beautifully color the present day.
 
■ Collaboration products
Product name: [HAND x HERALBONY] ART DRESS
Product price: ¥49,500 (tax included )
Release date: September 17th

Sales store: HERALBONY Shibuya Scramble Square pop-up shop store limited pre-sale (sold at HERALBONY ONLINE STORE from around the end of October)
Product name: [HAND×HERALBO NY] AR T SCARF
Product price: ¥11,000 (tax included)
Release date: September 17th

Sales store: HERALBONY Shibuya Scramble Square pop-up shop store limited pre-sale (sold at HERALBONY ONLINE STORE from around the end of October)
Official site:
https://hand-vintage.com/
■ Instagram live distribution
We will introduce the behind-the-scenes story of this collaboration between HAND director ERU and HERALBONY CEO Takaya Matsuda, as well as styling using collaboration products by HAND staff.
[Delivery date and time] August 18, 18:00-18:45
[Distribution account]
HERALBONY (
https://www.instagram.com/heralbony/
)
HAND (
https://www.instagram.com/HAND.vintage/
)
Details will be announced on SNS.
■Artist fuco: / HAND staff store event
Artist fuco: will be present at the pop-up shop at Shibuya Scramble Square, which will be held from September 1st, and postcard-sized original art will be presented to those who purchase this collaboration product on the day.
[Store days]
Artist fuco: Scheduled for September 17, 14:00-17:00 *Times are subject to change.
​HAND staff: September 17th to September 18th *Time undecided
・ About original art production
[Present target] Those who have purchased HAND x HERALBONY products * It will end as soon as the stock runs out.
·store information
《Store name》Shibuya Scramble Square
[Address] 2-24-12 Shibuya, Shibuya-ku, Tokyo 150-0002
SHIBUYA SCRAMBLE SQUARE △ Shop & Restaurant 2F Space 2
[Business hours] 10:00-21:00
[business day] From September 1, 2022 to September 28
*Please check the store website for the latest business hours.
https://www.shibuya-scramble-square.com/
■ Participating artists/work introduction
Artist: Mr. fuco: Enrollment: Individual (Saga Prefecture)
Born in 2001.
It's been 5 years since I started drawing circles just to kill time. In recent years, he has begun to draw motifs other than circles. I continue to draw motifs of circles, sankaku, and shikaku freely every day without getting tired of long and large canvases. The words that come out as communication are few, but there are times when the words that come to mind are repeatedly muttered. Along with the words, the work is also born.
The world that only she sees and feels is slowly and colorfully expressed through her work.
Title: Shiawase Pink
Title: Hajimetenoshikaku
Title: Marmix!
■ Vintage boutique "HAND"
"HAND" is a clothing store that opens only seven days a month.
Arranging mainly vintage items collected by hand one by one, we handcraft what we want to make from the bottom of our hearts at the right time and in the right amount.
Our boutique in Meguro-ku, Tokyo, is a space that was built in 1969 and is located in a quiet residential area away from any train station. When it is not open, it is used as an atelier, and we are working on careful craftsmanship while valuing both old and new items. Please enjoy the only one charm in the world born from our hands.
■Representative comment
Five years ago, we started talking about making clothes together. The time has finally come. Through our clothing, we express our support and respect for these people, who declare that they will "deliver a variety of 'distinctions' to society in various forms and create a new culture with welfare as the starting point."
I pray that by the time this dress grows into your vintage dress, the preconceptions and common sense that divide the world will be a thing of the distant past.