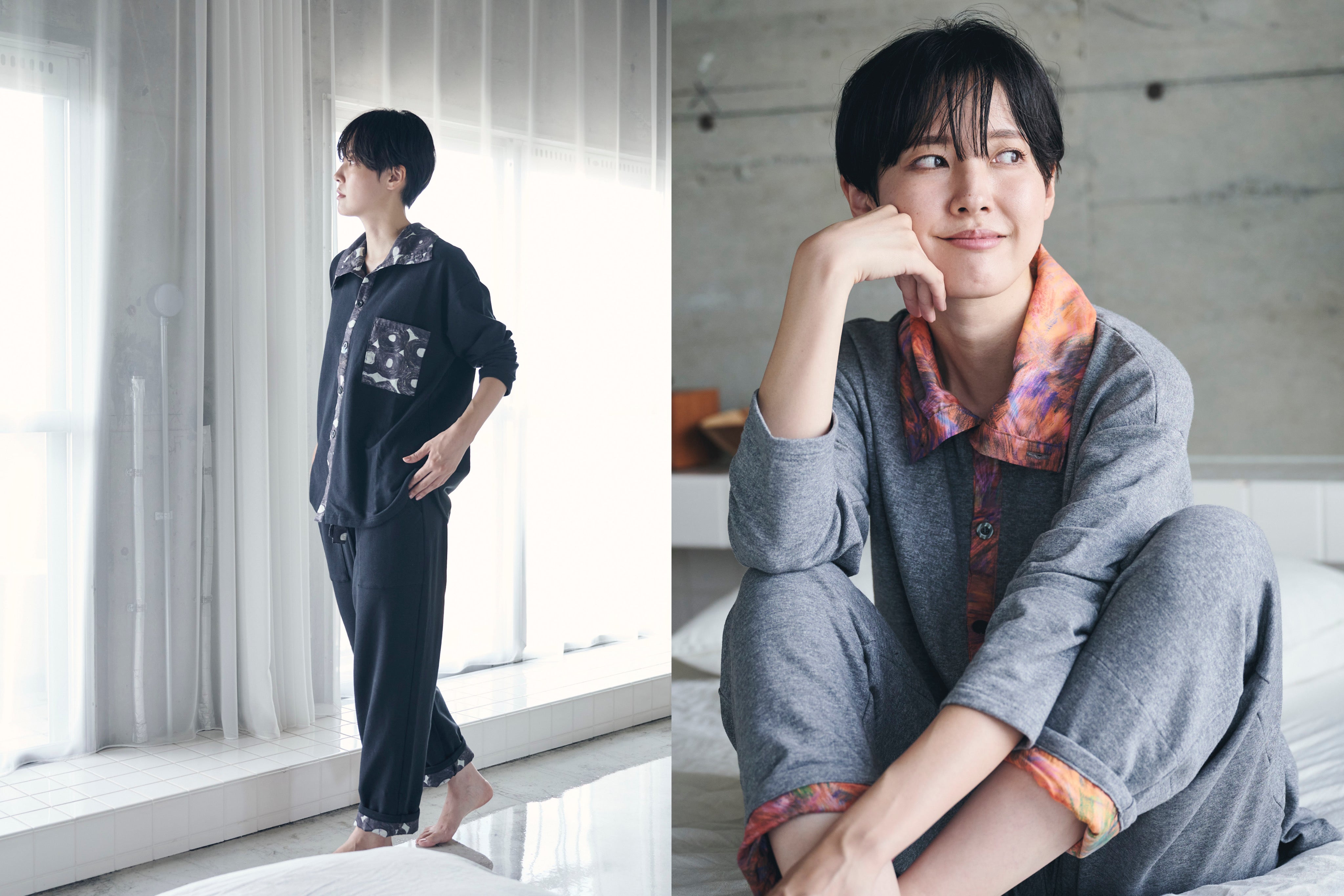 [NEWS] Collaboration recovery wear with "eume" released
From October 19th, we will sell recovery wear in collaboration with the self-care brand "eume" operated by Everist Co., Ltd.
The first recovery wear collaboration is based on eume's value of "relationship with me, not leaving myself behind". It was realized by linking the words of , "Rather than enabling people with intellectual disabilities to do what they cannot do, we mutually accept the premise that they cannot do it."
Kodenshi® fiber, which is attracting attention as a high-performance material, is used for the material of the wear.
Kodenshi® has a "warming function" that directly "warms" the human body by radiating far-infrared rays generated by the body temperature, leading to a natural and comfortable warmth, and an improved sleep environment for fatigue recovery with soft wear. There is a "conditioning function" that supports
Art textiles are used for the top collar, chest pocket, front and bottom belts (removable), and cuffed hem to add color to your everyday moments.
You can use it according to your personal lifestyle, not only when you sleep, but also when you go out for a short time.
◾️Store information
Title: "Heraruboni Art Collection-Meeting a unique color, a new impression.-"
Period: October 19, 2022 (Wednesday)-October 31, 2022 (Monday) * The final day will end at 6:00 pm.
Venue: Hankyu Umeda Main Store 9F Festival Plaza Venue: 530-8350
8-7 Kakuda-cho, Kita-ku, Osaka-shi, Osaka Hankyu Umeda Main Store Map: https://www.hankyu-dept.co.jp/honten/map/index.html/
Website: http://www.hankyu-dept.co.jp/honten/
◾️ Product Details
Product name: ART RELUX & RECOVERY WEAR
Product price: ¥29,700 (tax included)
Size development: F
Material: Kodenshi mini fleece (43% polyester, 41% cotton, 13% regenerated cellulose, 3% polyurethane)
Release date: October 19, 2022 Stores: HERALBONY ONLINE STORE, eume ONLINE STORE, HERALBONY Art Collection Hankyu Umeda store
◾️Introduction of authors and works
Title: "(Untitled) (Circle)"
Author: Sanae Sasaki
Enrollment: Rumbinii Art Museum (Iwate Prefecture)
In addition to his paintings, he continues to create various forms of expression, such as textiles, paper cutouts, and embroidery, all of which are intricate and rich in color and composition. She would concentrate on one job for months or years before suddenly quitting and moving on to something else. In recent years, she has devoted herself to cutting out round pieces of paper and coloring them in a number of concentric circles.
Title: "Kaze no Rondo"
Author: Minami Takahashi
Enrollment: Rumbinii Art Museum (Iwate Prefecture)
At first glance, the works created by layering coupy pencils and crayons are reminiscent of a fierce production attitude that requires quick pencil movements. But in reality, her work is very slow and gentle. Each color she draws appears on the screen while asserting its own beauty, without mixing with each other. can't
◾️eume
A self-care brand that nurtures "me" by staying close to the waves of the mind and body. We develop high-performance products that increase the number of "done" just by using them. We propose self-care that fosters a sense of self-efficacy by not only paying attention to what you can't do, but also confirming what you can do. Under the direction of Sayori Motojima, a beautician who has a reputation for not only body care but also mental care, we are developing products and services by transmitting about "relationship with me, not leaving myself behind" itself.
eume HP: https://eume.jp/
Instagram: @eume_official
◾️eume Director/Self-Care Beautician|Ayori Motojima
Based on the principle of "relationship with yourself, not leaving yourself behind", self-care of mind and body, diet beauty information is disseminated. The cumulative number of books published is 400,000. 240,000 Instagram followers.
Launched self-care brand "eume" that fosters a sense of self-efficacy by paying attention to what one has accomplished. Delivering experiences and messages to nurture yourself.
Instagram: @saoooori89