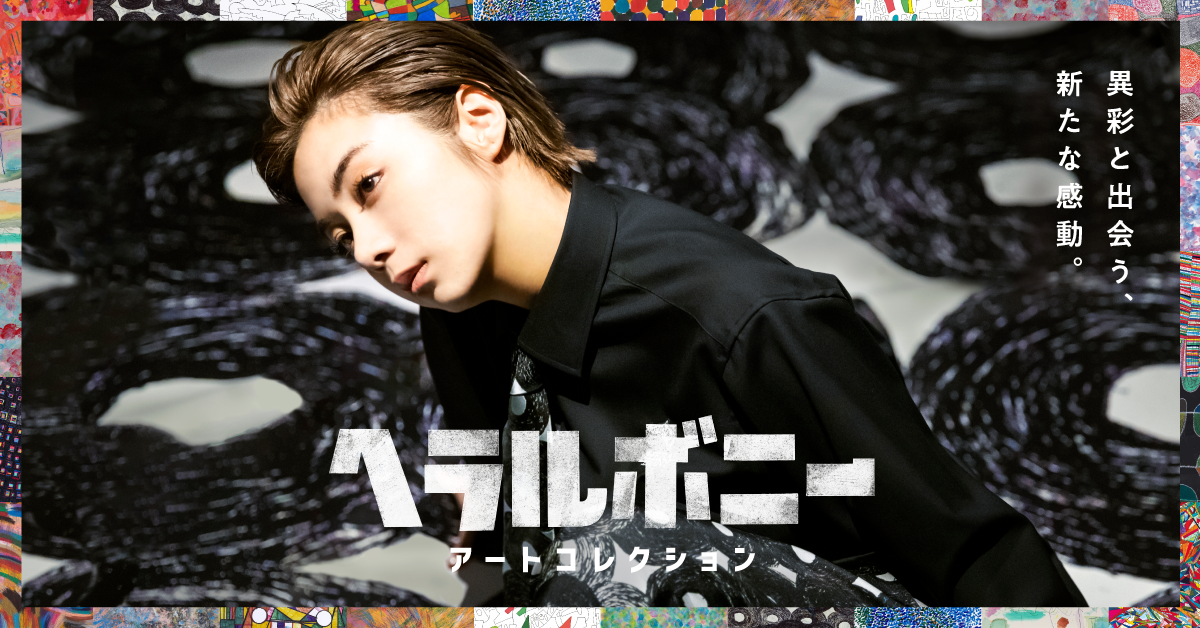 [NEWS] HERALBONY's largest store "HERALBONY ART COLLECTION" will be held at Hankyu Umeda Main Store 9F Festival Square
HERALBONY will hold the "HERALBONY Art Collection-Meet Distinctive, A new impression.-" will be held for a limited time from October 19th (Wednesday).

In addition to an exhibition of original paintings curated mainly by artists living in Kansai, we are planning to hold several related programs such as the art lifestyle brand "HERALBONY" opening a store and an art cruise event around the venue.


Click here for the special site
This time, with the store message of "WITH Good Harmony", Hankyu Umeda Main Store, which transmits efforts to create a better future, and the mission of "Let's stand out." We aim to create a new culture starting from welfare. This event has been realized with the same thoughts as Heral Bonnie.

This event will be the largest store opening in the history of HERALBONY.
All the staff are looking forward to welcoming you.

■ Concept

The Heral Bonnie Art Collection is
Beyond age, gender, disability, and all boundaries,
A place where artists shine as "outstanding".
Encounter with art drawn by unique artists,
It will shake your heart and show you a scenery you have never seen before.


■Overview
"Heraruboni Art Collection- A new impression that meets a unique color.- "
Period: October 19, 2022 (Wednesday) to October 31, 2022 (Monday)
※We will finish at 6:00 pm on the last day.
Venue: Hankyu Umeda Main Store 9F Festival Square
Contents:
・Original painting exhibition "HERALBONY GALLERY in Hankyu "
・Artist Atelier Space " Outstanding, Taisuke Kinugasa's Atelier "
・HERALBONY (Fashion/Interior) POP UP opened
・Special collaboration (fashion) POP UP opening

■ Related programs
Introducing an example of the program. We are planning to hold various other events.
"Art Cruise Special"
Heralbonny staff will guide you through the main venue where various unique arts are lined up. Let's go on a journey to meet something different.
On October 19th (Wednesday), the first day of the event, the "Art Cruise Special" will be held, with Takaya Matsuda and Fumito Matsuda, both representatives of Heralbony, serving as guides.
Date: October 19, 2022 (Wednesday) 11:00-11:30 / 16:00-16:30 (Time required for each session: 30 minutes)
Guide: Takaya Matsuda, CEO, Heralbony Co., Ltd.
Heralbony Co., Ltd. Executive Vice President Fumito Matsuda
Location: Hankyu Umeda Main Store 9F Festival Square
Participation fee: Free
* Every day during the exhibition period, an "art cruise" will be held with Heral Bonnie staff as guides. In addition, we are planning to hold a sign language interpreter on 10/29 (Sat).
Public Art Production "Outstanding Atelier of Taisuke Kinugasa"
The atelier of Taisuke Kinugasa, an artist who works at Gallery Miracle in Kyoto, will appear in the venue. Mr. Kinugasa visits the permanent atelier as he pleases. In addition to being able to see the drawing up close, it is also possible to purchase the completed work.
Date and time: October 19, 2022 (Wednesday) 13:30- Start of atelier production activities (end time undecided) Guest: Taisuke Kinugasa
Venue: Hankyu Umeda Main Store 9th Floor Festival Plaza "Atelier of Taisuke Kinugasa"
* Scheduled to be produced on Mondays, Wednesdays, Saturdays, and Sundays from 10/20 (Thursday) (time undecided)
*This event is subject to change, cancellation, or postponement without notice.
Please check the special site for the latest information .

■ Artist introduction



Taisuke Kinugasa (Enrollment: Individual)
Born in Kyoto in 1989. I have been drawing since I was 2 years old. To live is to draw. Draws a world full of light and color with a color sense and sensitivity that is also described as magical. His artwork has received high acclaim both at home and abroad. Based in Gallery Miracle in Kyoto, he has held solo exhibitions in various places such as Tokyo, Kyoto, Okinawa, Sapporo, Osaka, Okayama, and New York. Many projects such as collaboration with various major companies, commercialization, commercial spaces and public facility exhibitions. Large-scale votive plaques are on permanent display at Kyoto Kamigoryo Shrine and Shirakumo Shrine in Kyoto Gyoen National Garden.


Further information will be published at a later date. Please look forward to it.