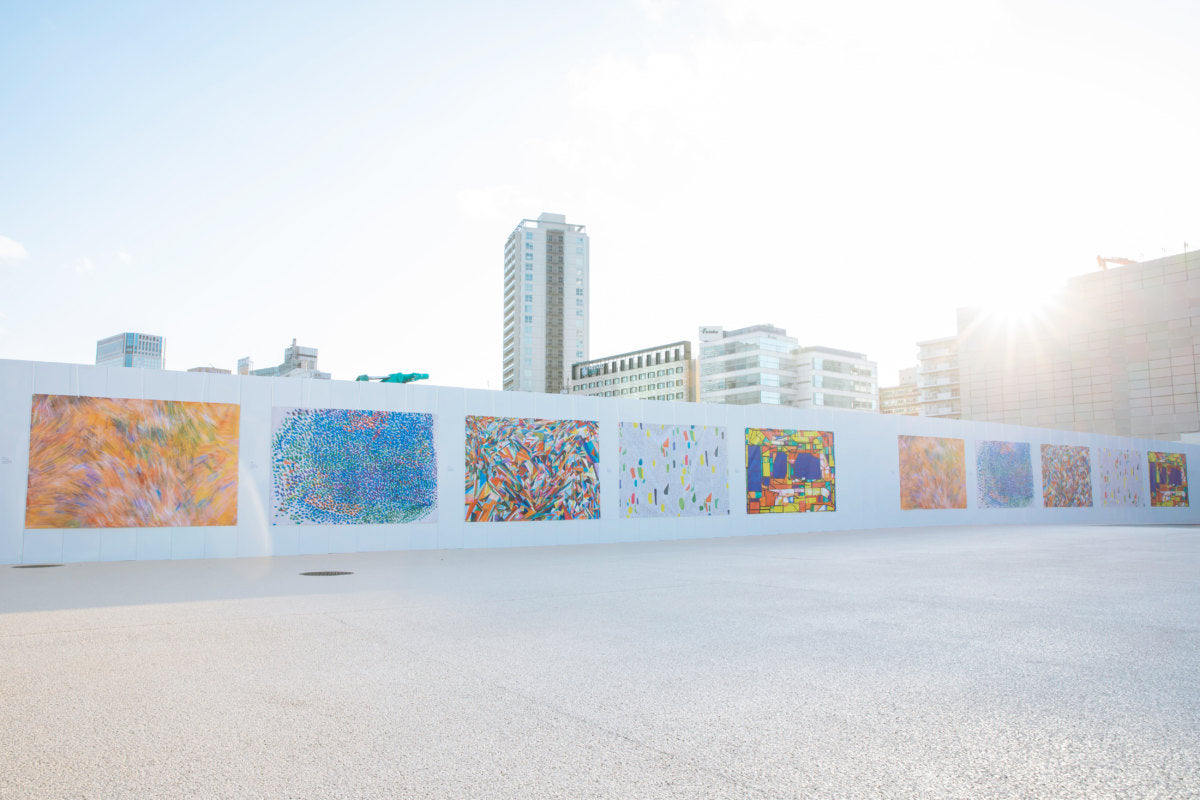 [Product Information] WALL ART TOTE BAG | Art temporary enclosure that colors the city becomes a product that colors people
HERALBONY's own business, the All Japan Temporary Enclosure Art Museum
The All Japan Temporary Enclosure Art Project reconsiders the temporary enclosure that protects construction houses as a limited-time museum where new discoveries can be made.

Artists with intellectual disabilities belonging to local welfare facilities add color to the sensibilities of your city and its neighbors.
And this time, a project for a sound material-cycle society will be born from Takanawa Gateway Fest by co-creation of JR East Group and HERALBONY Co., Ltd.
It is a museum for a limited time that colors the temporary enclosure of the construction site, which was pure white, with the works of artists with intellectual disabilities.
2020
A new cycle of value that connects the city and people begins
Tote bag with upcycled temporary enclosure art
The art work that colors the station becomes the art work that colors the city.
After removing the art tarpaulin printed with the art work as a temporary enclosure, it will be reborn as an up-cycle tote bag. Pre-order sales are available for each art quantity.
※Each design differs depending on the cutting location.
Title:「Numbers」
Artist:Satoru Kobayashi
His favorite musician is Billy Joel Queen Yosui Inoue Spitz, THE BOOM. And Kobayashi, who loves walking, began to write all the letters in his diary and composition in a unique way while he was in the middle school of a special school. Switching to a typical modeling expression With this as a turning point, his expression began to fly as an art that gives joy to many people.
Title:「Wind Rondo」
Artist:Takahashi Minami
At first glance, the work created by applying Coupy pencils and crayons is reminiscent of a fierce production attitude that requires quick pencil movements, but in reality her production is very slow and gentle. They appear on the screen while insisting on their beauty without mixing, and the intensity and tranquility coexist mysteriously, and I cannot help attracting my heart.
Title:「Untitled (blue)」
Artist:Midori Kudo
Sometimes she is fluffy and dreaming about talking to someone around her with a smile, and sometimes she is alone deeply conscious of my inner world. Her eyes are chasing something that is reflected only in her heart. Does she have a happy image that fills her heart, or is it to prevent pain and sadness from being reflected in her heart?
Midori's production has the endlessness that comes from meditation. Do you have the consciousness that you are creating something now? There is a mysterious atmosphere in her production.
Title:「Untitled」
Artist:Kiyoshi Yaegashi
At first glance, it looks like an abstract geometric pattern, but many people would be surprised to find that it was a building drawn with a unique arrangement. Who did Yaegashi learn from when he was a child? The number of works that have been created in this single style for more than half a century since it was created by abstraction is probably thousands.
Title:「Origami」
Artist:Michiyo Yaegashi
Using brush markers to create a detailed screen full of vibrant shapes and colors I've always liked coloring books since I was little, but I started drawing my own paintings for the first time.19Since he was a year old, he has produced works with vivid colors and delicate composition as if he had cut a weir.